October 2022
Bushmills Heritage Cask Trilogy with Plinth
Three is always better than one, which is why we are offering Members the chance to acquire the full set of Bushmills Heritage Casks all at once. You will also receive a fabulous hand-crafted plinth fashioned from a barrel stave on which to set your bottles of Irish glory.
Ireland
Overview
Back in 2020, Bushmills launched their 2006 Marsala Cask exclusively for the Whisky Club. Forming part of Bushmills' globally celebrated Causeway Collection, the Heritage Casks series was released solely for our Members here in Australia.
We were thrilled to see our logo on such a fabulous bottle of Bushmills and even more thrilled when Marsala Cask started to multiply in value on the secondary market, selling for thousands of dollars at auction in Europe.
Marsala is an ancient fortified Italian wine and we followed this up in 2021 with our Bushmills 2011 Banyuls Cask, another triumphant exclusive for the Club. Banyuls has been described as "French Port" and Members went just as doo-lally as they did for the Marsala Cask.
Now Bushmills has released the epic season finale of its Heritage Casks series for the Club: 2012 Burgundy Cask. This is whisky aged in Oloroso and matured in red wine from a French Domaine dating back to the 1400s.
Three is always better than one, which is why we are offering Members the chance to acquire the full set of Bushmills Heritage Casks all at once. Your whisky shelf may feel like it's had an upgrade, but we're set to make the Bushmills stand out even more.
We have commissioned ten plinths on which to sit your three bottles of glory. These lovingly hand-crafted collectors' items have been fashioned from barrel staves and are yours when you buy the complete Heritage Casks set.
The bundle of three bottles plus plinth is just $495. With demand for these as high as we imagine it will be, these will be sold via ballot, opening 7 October and closing on the 9th. Join the ballot and let's hope the luck of the Irish is on your side.
Ready to enjoy a world-class whisky collection?
Your free Club Membership gives access to exclusive single malt from Scotland, Australia and the world's best distilleries. Enjoy the unrivalled buying power of Australia's biggest whisky club.
Old Bushmill Distillery's History
Whiskey making has long been an Irish tradition, with monks known to have been distilling it as far back as the 11th Century. In fact, Ireland is believed to be the birthplace of whisk(e)y itself, the name coming from the Irish word 'uisce', meaning water. The spirit was often referred to as 'uisce-breatha', or 'water of life' (the Scottish equivalent is uisge-beatha). So now you know.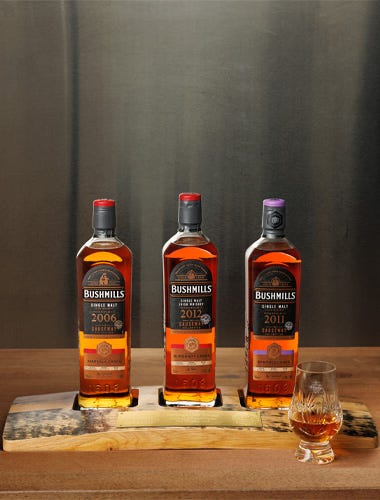 Distillery Facts
Origin: 2 Distillery Rd, Bushmills, County Antrim BT57 8XH, United Kingdom
Water Source: Saint Columb's Rill (a tributary of the River Bush)
Washbacks: Stainless Steel
Stills: Ten copper pot stills
Capacity: 4,500,000 litres per annum
Stop scrolling. Start dramming.