February 2020
Inchmoan 2007 Whisky Club Members Edition
In our ongoing quest for the best we charged Loch Lomond Distillery's renowned Master Blender Michael Henry with the ultimate task – create the perfect Scotch for Australia's biggest community of whisky lovers. And he absolutely smashed it, hitting the perfect peat and sweet spot with this very special Members Edition.
United Kingdom
Nose Creamy butterscotch and freshly baked shortbread, fused with vanilla, cracked black pepper and smouldering floral peat.
Palate Beautiful sweet peat, juicy smoked bacon, cloves and aniseed, moving into fresh green apples, pears and home-made lemonade.
Finish Long and waxy peat with a citrus hop note, some gooseberry coming through along with warming spices.
Food Match Salt and Pepper Calamari.
Overview
Set up to be totally self-sufficient, much like a Japanese distillery, Loch Lomond is one of only two remaining "dual" whisky distilleries in Scotland distilling both grain and malt whisky in the same facility. While dual distilleries were common in the 19th century, consolidation and efficiencies during the 20th century meant that nowadays distilleries are either one or the other. Loch Lomond has bucked the trend and taken it a step further. Today the distillery features a set of traditional pot stills, three sets of Lomond stills (the last in Scotland) and three column stills. This enviable set-up allows Loch Lomond to not only make grain spirit, but also eight unique styles of malt spirit, from which they can make countless combinations of both single malt and blends. Most importantly, unlike anyone else, they don't have to rely on other producers to supply whisky for their blends.
Loch Lomond Distillery produces three single malt styles, each under a separate brand. Inchmurrin (unpeated) is made exclusively from high strength spirit off the Lomond stills, whereas Loch Lomond (slightly peated) and Inchmoan (heavily peated) combine spirit from both traditional pot stills and Lomond stills.
A Lomond still is a hybrid style of still that features a traditional pot but is fitted with a rectifying head (like a column still). This allows the stillman to create various styles of whisky on the same still; everything from heavy, oily whiskies through to very light floral whiskies, all at various strengths and all from a single apparatus.
The Lomond still's versatility is put to good use in the production of Inchmoan, a whisky that combines three of Loch Lomond's distilling methods to create a peated whisky like no other. First up is spirit from the traditional swan neck pot stills. Similar to what most other distilleries use, these stills give that familiar phenolic, medicinal character to the spirit. Next, it's time for Loch Lomond's party piece to come into play, with the second style seeing the Lomond stills run with a wide cut point to give a collection point of about 65% and a real smoky spirit, and the third style uses a narrow cut point resulting in a high collection strength of about 85%, bringing out the softer spice character of the peat.
Each of the three styles are barrelled and matured separately. And when they're ready, are combined to bring about a certain balance to bring down the big aggressive phenol notes, keep the smokiness and bring out the softer spice character of the peat. Once combined, it's married for two months before bottling.
Which brings us to our whisky this month, the 2007 Inchmoan Whisky Club Members Edition. The Whisky Club worked with Loch Lomond's Master Blender Michael Henry to create our ultimate Inchmoan. Hand-selected American Oak casks, all laid down in 2007, have been brought together in a marriage of sweet, peaty delights, and bottled in October 2019 at Michael's preferred 48% ABV, non chill-filtered and natural in colour of course.
The result is a whisky that will have you picking your jaw up off the floor – a deliciously sweet peaty treat, bright and vibrant with creamy butterscotch, vanilla and home-made lemonade, combined with juicy smoked bacon and smouldering floral peat. Yum. Of course, once it's gone, it's gone, so be sure to hit the Double-Up button so you can keep a bottle in reserve. Your whisky shelf will thank you for it!
THE SPECS
Maturation: Refill American oak cask
Ready to enjoy a world-class whisky collection?
Your free Club Membership gives access to exclusive single malt from Scotland, Australia and the world's best distilleries. Enjoy the unrivalled buying power of Australia's biggest whisky club.
Loch Lomond's History
Loch Lomond is one of Scotland's most famous and beautiful landmarks and delineates the boundary between the Lowlands and Highlands. The area's been at the heart of the whisky industry for centuries and at least nine distilleries around the Loch have come and gone over the years, leaving Loch Lomond Distillery to carry the flag into the 21st century… and what a stellar job it's doing!
The distillery was established in 1963 by one of the great innovators of the industry, an American called Duncan Thomas, whose leftfield thinking laid the foundation for Loch Lomond to become the most flexible and innovative distillery in Scotland.
Inspired by the 1960s whisky boom, Thomas established Loch Lomond in partnership with Chicago-based Barton Brands and set about producing malt whisky on state-of-the-art long neck pot stills, or Lomond stills, named after the Lomond brand of whisky made on a similar still at nearby Inverleven Distillery (more on these stills soon). Whisky was booming so Barton bought him out in 1971, but sold the distillery to Inver House (Old Pulteney, Balblair, anCnoc) in 1985 when things slowed down again. They, in turn, flipped it to Glen Catrine Bonded Warehouse Ltd in 1986 and the rest, as they say, is history.
In purchasing Loch Lomond, Glen Catrine had the means to heavily exploit the private label and bulk whisky market; an unglamorous but highly lucrative business that no one else was doing quite as well as they were. Over the next three decades they rapidly built up the distillery's infrastructure to flexibly produce a wide variety of whisky styles including traditional peated and unpeated single malt, peated and unpeated single malt from Lomond stills, single grain and blended whisky. In addition to producing for the private and bulk market, the company also bottled and marketed whisky under their own labels including Loch Lomond, Inchmurrin, Inchmoan, Glengarry, Clansman and High Commissioner. While their blends did very well, the malts never really got the attention they deserved and aside from a small annual output of original bottlings, Loch Lomond's single malts were mainly the preserve of independent bottlers.
The world's currently experiencing a whisky boom like no other. And in 2014 the distillery was acquired by a private team of industry heavyweights including former Diageo CFOs Nick Rose and Richard Miles, along with Colin Matthews, who led Imperial Tobacco's businesses in Africa, the Middle East and the Indian sub-continent. The new guys mean business and since taking over, have implemented a major overhaul of the distillery's range including rebranding and repackaging, and most importantly for whisky lovers around the world, a very strong focus on malt whisky. Loch Lomond's superb single malts are finally getting their turn in the sun!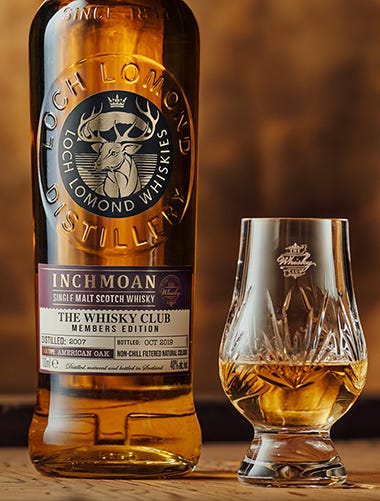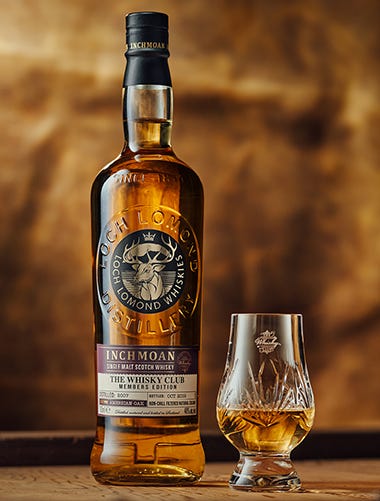 Distillery Facts
Origin: Loch Lomond Distillery, Lomond Industrial Estate, Bowie Rd, Alexandria G83 0TL, United Kingdom
Water Source: 9 boreholes on site
Washbacks: 21 stainless steel (10 x 25,000 litres and 11 x 50,000 litres)
Stills: 3 sets of Lomond stills (wash and spirit), 1 set traditional pot stills (wash and spirit) and 3 sets of column stills (analyser and rectifier)
Capacity: 23,000,000 litres per annum of grain whisky and 2,000,000 litres per annum of malt whisky
Ready to enjoy a world-class whisky collection?
Your free Club Membership gives access to exclusive single malt from Scotland, Australia and the world's best distilleries. Enjoy the unrivalled buying power of Australia's biggest whisky club.
Stop scrolling. Start dramming.