September 2023
Talisker 1984 Prima & Ultima
This is the last 1984 vintage release from Talisker, ever. Nearly four decades of carefully safeguarded seaside maturation has formed this incredible single malt into exquisite liquid gold.
United Kingdom
Nose Lightly smoky with hints of chalk and maritime salt, soft vanillin alongside malt and smouldering campfire.
Palate A deliciously light oil-smooth texture introduces a sweet richly malty start, soon balanced by a dash of salt mid-palate and surging waves of smoky pepper.
Finish Long, with a peppery warmth and a fine gentle chilli pepper 'catch', leaving a peppery heat on the tongue.
Overview
We've been given exclusive access to Talisker's very own private vaults to bring the absolute best of best of Talisker's vintage catalogue to Club Members.
Usually only reserved for friends of the distillery, the incredible Talisker 1984 Prima & Ultima is that rare tier of release that whisky connoisseurs and collectors can only dream of. You won't see another vintage from this year, from these guys, ever again. This is it.
This glorious vintage was distilled in 1984 and has embraced a seaside maturation for nearly four decades in a combination of predominantly American Oak casks alongside a European oak ex-Sherry butt; a feat resulting in the undeniable Talisker taste of balanced fruit and peated bliss.
In 2021 the bottling of this peated malt was carried out using non-chill filtration to maintain the whisky's natural rich oiliness. Notes of salted white chocolate, peppery tea and smoked almonds take centre stage with a fantastic finish of marzipan and soft building grapefruit. It's fantastic polished brass hue is naturally occurring, with not a single drop of colour added to this liquid gold, coming to you at a natural cask strength of 51.9% so you can truly taste Talisker in its most unadulterated form.
Presented in a luxurious case fit for such exquisite craftsmanship, you'll need to make some space on your whisky shelf for this to take centre stage.
Only a handful were available and each lucky person who managed to snatch up a bottle also received an exclusive invite to a Talisker tasting, the ultimate event for any whisky lover.
If you're not a Member of the Club already, join free today.
THE SPECS
Maturation: Matured in three refill American oak hogsheads and one European oak ex-Sherry butt.
Ready to enjoy a world-class whisky collection?
Your free Club Membership gives access to exclusive single malt from Scotland, Australia and the world's best distilleries. Enjoy the unrivalled buying power of Australia's biggest whisky club.
Talisker Distillery's History
The tale of Talisker Distillery, the oldest working distillery on the Isle of Skye, is filled with twists and turns that shaped this iconic single malt into the legend it is today.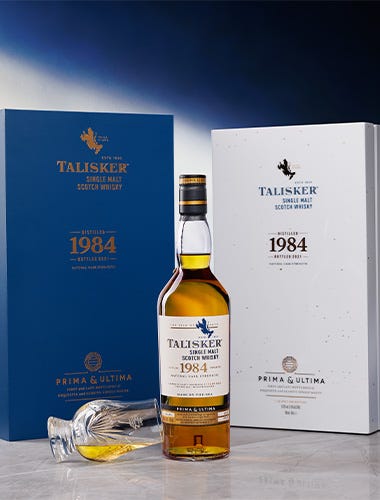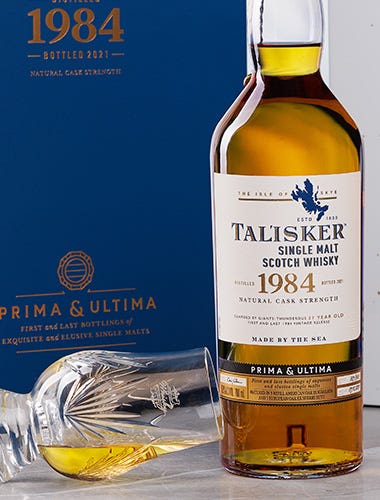 Distillery Facts
Origin: Talisker Distillery, Carbost, Isle of Skye, Inverness-shire, IV47 8SR, United Kingdom
Water Source: Cnocnan Speireag Burn
Stills: 5 (2 wash, 3 spirit)
Capacity: 3,500,000 litres per annum
Stop scrolling. Start dramming.