Master Blender Alex Thomas on our Bushmills 2012 Burgundy Cask
February 10, 2023
/ 3 mins
By now you've probably heard the good news: your 2022 Whisky of the Year is our Bushmills 2012 Burgundy Cask! It was a ridiculously close race to the top, and the competition was stiff. But in the end, you voted the Burgundy beast from Bushmills as your all-time number one.
Bushmills Master Blender Alex Thomas is over the moon with the news. This whisky, and the distillery itself, is particularly close to Alex's heart.
Our Bushmills 2012 Burgundy Cask, marks a significant moment in her almost two-decades-long involvement with the distillery: it's the first whiskey she oversaw from the moment the spirit was laid down and then finished in Burgundy casks.
We had a chat with Alex to share the good news. Here's what she had to say.
Where were you when you heard the news that the Bushmills 2012 Burgundy Cask won The Whisky Club's Whisky of the Year?
Alex: I was at my parents' house when I saw the post on the Whisky Club Facebook page. I went straight into the living room to tell my dad! I was so excited to share the amazing news with him – what an honour.
What makes you most proud of this whiskey?
Alex: The Burgundy will always hold a special place in my heart — 2012 was the year I received my qualifications to be a Master Blender. So, I was able to look after this whiskey, as it first went into the cask and then nurtured its transformation over the years. The stunning, rare Burgundy cask, with added waves of intense flavours of black cherry, raspberry and vanilla truffle, is unlike anything we have ever produced before.
Have you been getting requests for the Burgundy Cask since its exclusive release with The Whisky Club?
Alex: So many people have asked me both in person and over social media where they can get their hands on a bottle of the Burgundy. The buzz it has created for the Irish category and the Causeway Collection has been inspiring. I am over the moon to have this as a Whisky Club exclusive release and to further solidify the great relationship we have created together.
---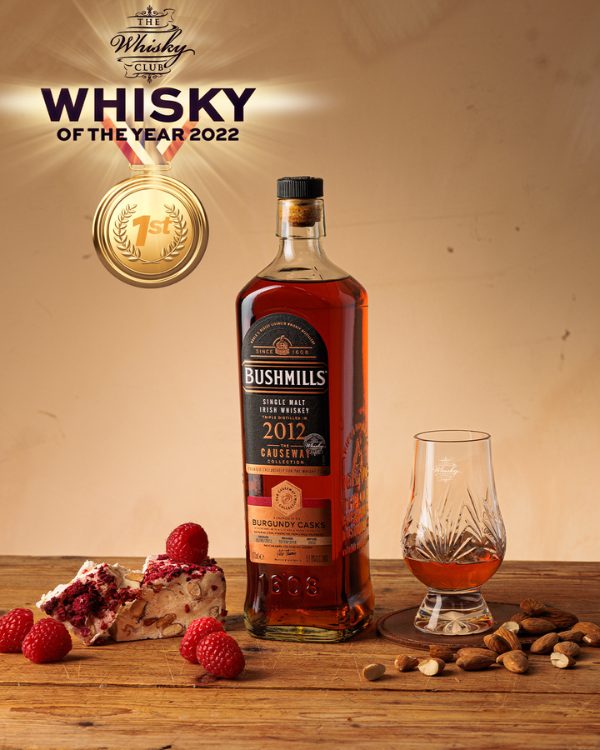 ---
Good news, whisky lovers.
We put aside some bottles for the Club's upcoming international expansion. Yep, we're spreading the whisky love worldwide. We'll have more on that later.
Because our Members voted our Bushmills 2012 Burgundy Cask as their favourite whiskey of 2022, we're giving them first dibs on extra bottles before they're gone for good!
We've got even more good news.
It's safe to say our Bushmills Burgundy Cask has taken the world by storm and people the world over are aching to get their hands on a bottle. A bottle of our Bushmills 2012 Burgundy Cask has just sold at auction for more than $2,000! That's FIFTEEN times more than our Members paid for it in October. You can reserve a bottle now for $135.
If you're a Member, head to your account now to reserve a bottle to be shipped with your March order www.thewhiskyclub.com.au/my-account
If you're not a Member, join the Club free now to secure a bottle! www.thewhiskyclub.com.au/bushmills
Ready to receive world exclusive whisky?